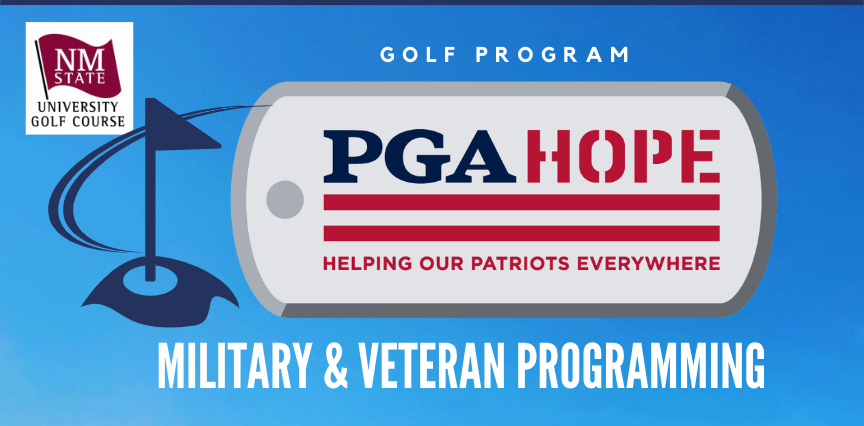 NMSU GC will be offering TWO(2) - SIX(6) week sessions of the PGA HOPE Program for our Veteran and military community.
→To register—Visit www.PGA.com CLICK on Things To Do and Click PGA HOPE - If NMSU PGA does not automatically populate just SEARCH - Las Cruces, NM 
--
Session 1: Will meet EVERY Thursday for SIX(6) weeks
May 11th - June 15th
--
Session 2: Will meet EVERY Saturday for SIX(6) weeks
September 2nd - October 7th
--
NMSU GC Will provide all necessary equipment throughout the program . Both sessions will meet from 2:00—3:30 PM with the last session meeting from 3:00-5:30 PM. As part of the PGA HOPE program NMSU GC will host a graduation dinner for participants and family after the last session.
---
As part of the program veterans will be guided through all aspects of the Game of Golf by PGA Professionals, PGA Associates and PGA Golf Management Students. Whether a Veteran is brand new to the Game of Golf or has previous experience all participants will benefit from the lesson programming.
Day 1: Program Overview and Putting
Day 2: Chipping and Pitching
Day 3: Iron Play
Day 4: Driver and Fairway woods
Day 5: Golf Course Experience
Day 6: Golf Course Experience/Graduation
---
Click here for full PGA Hope flyer.