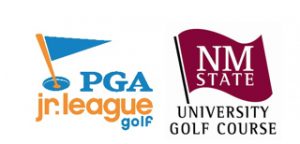 Team Not Individual
PGA JLG offers a golf experience like no other. Creating lasting friendships, and developing a sense of comradery, these are just two things you can expect your child to find while playing in the PGA JLG. There is no individual scoring in PGA JLG. The two-player scramble format allows for all participants to feel connected with the team, while accomplishing their own goals on the course. Strong play is rewarded, teammates must work together when playing against their competitors, one poor shot does not lose a hole.
Players of all skill levels are welcome and will contribute to the team's success. Every player gets to play...in every competition! Each team-vs-team competition in PGA JLG consists of four 9-hole matches. Each 9-hole match is broken down into three 3-hole segments that we call "Flags". Actual "Flag" stickers are awarded to participants upon capturing a 3-hole point for their team. The stickers are collected by the players throughout the season, and proudly displayed on their PGA JLG bag-tags as a sign of accomplishment.
---
Spring/Summer PGA Jr League
NMSU is taking a fresh look at PGA Jr League and wanted to introduce a program that allowed the parents to participate with their kids. We are offering a new program in which the parents can come out to the range and practice and play with their kids in a fun new format.
NMSU GC Junior League will accommodate your child's instructional needs in addition to rules seminars, etiquette and playing opportunities which will be designed around the specific needs of each junior.  The cost of the NMSU Junior Golf League will be $225 and will include the following benefits and opportunities:
Sign UP is EASY and SECURE: just visit www.PGAjuniorLeague.com or simply search PGA Junior League. Click on SIGN UP and search New Mexico State. To participate in PGA Junior League – you have to sign up online, WE CANNOT ACCEPT ANY PAYMENTS IN THE PRO-SHOP.
*Youth Programming, limited to the first 24 – Ages 13 and under*
---