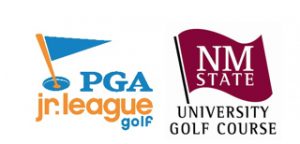 Team Not Individual
PGA JLG offers a golf experience like no other. Creating lasting friendships, and developing a sense of comradery, these are just two things you can expect your child to find while playing in the PGA JLG. There is no individual scoring in PGA JLG. The two-player scramble format allows for all participants to feel connected with the team, while accomplishing their own goals on the course. Strong play is rewarded, teammates must work together when playing against their competitors, one poor shot does not lose a hole.
Players of all skill levels are welcome and will contribute to the team's success. Every player gets to play…in every competition! Each team-vs-team competition in PGA JLG consists of four 9-hole matches. Each 9-hole match is broken down into three 3-hole segments that we call "Flags". Actual "Flag" stickers are awarded to participants upon capturing a 3-hole point for their team. The stickers are collected by the players throughout the season, and proudly displayed on their PGA JLG bag-tags as a sign of accomplishment.
---
Fall PGA Jr League
NMSU is taking a fresh look at PGA Jr League and wanted to introduce a program that allowed the parents to participate with their kids. We are offering a new program in which the parents can come out to the range and practice and play with their kids in a fun new format.
NMSU GC Junior League will accommodate your child's instructional needs in addition to rules seminars, etiquette and playing opportunities which will be designed around the specific needs of each junior.  The cost of the NMSU Junior Golf League/PGA Family Cup.
$226 – NEW PGA Junior Leaguers
$127 – Returning PGA Junior Leaguers from the Spring/Summer 2022 PGA Junior League
Families wanting to participate in PGA Family Cup will pay an additional $100 (includes two parent series lessons and includes play days on Saturdays). $100 fee will be paid directly to the golf course.  
Sign UP is EASY and SECURE: just visit www.PGAjuniorLeague.com or simply search PGA Junior League. Click on SIGN UP and search New Mexico State. To participate in PGA Junior League – you have to sign up online, WE CANNOT ACCEPT ANY PAYMENTS IN THE PRO-SHOP. Scholarships are available — please contact Jason White – jaw@nmsu.edu
---
What PGA JLG Players Receive:
Team Jerseys (NEW PGA Junior Leaguers) Returning PGA Junior Leaguers have already paid the PGA Game changer fees and have already received their uniforms
Golf Balls
Interclub Matches
Instruction from PGA Professionals, Associates, PGA PGM Students
Team practices
NMSU Driving Range – E/Range Key for practice outside of scheduled practices
Access to ALL NMSU GC Short Game Areas – outside of scheduled practices
$5.00 Youth on course Green Fee Rate – WE WANT YOU TO PLAY outside of scheduled practices
Access to the PGA JLG Website
"Practice Day" time and day of the week will be determined based on what works best for the majority of the participants – we have a proposed schedule (see the next below). Once we establish our Team(s) we will develop or competition schedule.
Schedule
September 7      First Practice 5:00-6:30 Skills Assessments and Development – Meet at NMSU Driving Range
September 10    First Optional Practice for NMSU teams and Families. Please email by Thursday night to reserve a spot
September 14    Practice on short game and wedge play, 5:00pm – 6:30pm – Meet at Aggie Land
September 17    Optional Practice for NMSU teams and Families. Please email by Thursday night to reserve a spot.
September 18    First Match at NMSU
September 21    Practice on Full Swing Development 5:00pm – 6:30pm – Meet at NMSU Driving Range
September 24    Optional Practice for NMSU teams and Families; please email by Thursday night to reserve a spot
September 28    Final Practice going over Course Management 5:00pm – 6:30pm – Meet at Aggie Land
October 1            Final Optional Practice for NMSU teams and Families; please email by Thursday night to reserve a spot
October 2            Final Matches for NMSU- End of the year event